The Mid-America Regional Council (MARC) and Kansas City Public Television (KCPT) created Imagine KC to raise awareness of and present solutions to the economic, social and environmental challenges facing the Kansas City region.
Over four years (from 2009 to 2013), MARC and KCPT co-produced and aired 13 episodes of Imagine KC, providing reliable information about issues and ideas to encourage informed decision making and help our communities plan for a vibrant, connected and green future.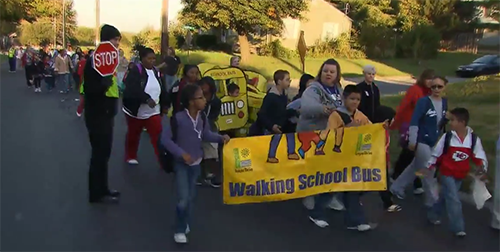 Walking School Bus, from
Episode 11, Sustainable, Healthy Lifestyles
Objectives of Imagine KC
Each episode was designed to:
Educate the public about a specific set of issues, policy options and how other metro areas are meeting these challenges.
Envision how to implement change in our region.
Engage the community in ongoing implementation projects and decision making.
Imagine KC worked to increase public knowledge of key strategies for more effective patterns of metropolitan growth. It helped inform the region's Creating Sustainable Places initiative and Transportation Outlook 2040.